What does a food critic paint in a therapeutic fasting clinic? I want to make it clear that it was not my intention to enter the Buchinger to lose weight, although I may need one someday. I had only unleashed my curiosity to find out for a few hours the diet that patients follow in a restricted place to which they do not have access to unlodged persons. In my memory I weighed the memory of the magnificent salad buffet of this clinic that I enjoyed in the summer of 2006 in the House of the Apothecarya Remedios Nieto. It happened on the occasion of the always extravagant annual chapter of the Brotherhood of poor gourmets of San Pedro de Alcántara to which I belong.
Finally, at the end of last August I managed to contact Fernando Sánchez, responsible for gastronomy and nutrition at the clinic. How do you alimentáis your patients in the Buchinguer? "Come and try our dishes and you'll see what we do," he answered kindly.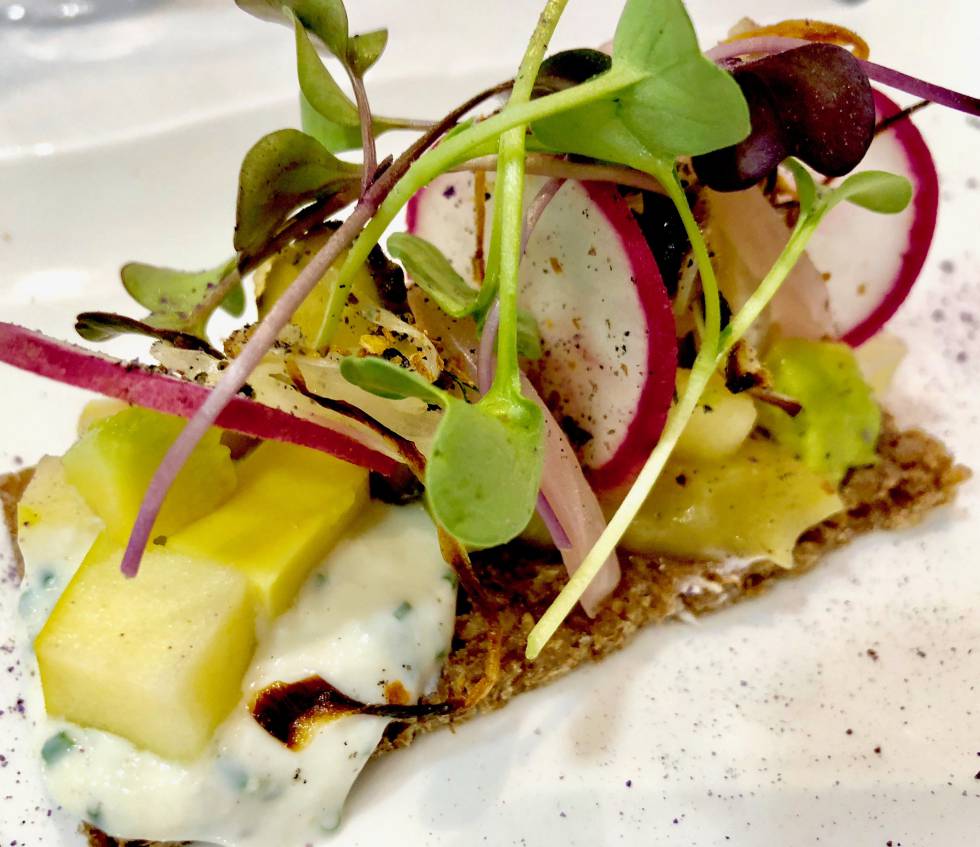 Nordic Toast/CAPEL
Among its director, the German Victor Wilhelmi, grandson of the founder, Maria Buchinger, who inaugurated this place in Marbella 45 years ago, and Sanchez himself showed me part of his facilities, including two orchards in Exploitation within its gardens. I'm not going to stop at the details of your relaxation treatments and the psychology of fasting. It is not the intent of this article.
Around 13, 00h we arrived at their kitchens, pristine as operating theatres, and the R & D space where the dishes are designed. Sanchez introduced me to the brigade, as well as a Javier, who was unloading vegetables from the orchards of coin and surroundings, I was told. "On that Blackboard is written the menu we are going to take, 6 dishes and a dessert with a total of 455 calories, approximately. They are culled recipes of the retraining periods of the patients, when they have completed the phase of voluntary fasting and low calorie diets.
During the time I shared a table with Victor and Fernando We exchanged multiple points of view.
Menu August 27th 2018
tomato, cherry and watermelon Gazpacho. It contained no bread or oil. As a garnish, hail of green tomato, fennel, apple, mint, pickles and dried goat cheese. Balance: 55 kilocalories
Scandinavian Toast On a slice of homemade rye bread, roasted garlic, bittersweet gherkins, radishes, a milky cream to dissociate flavors, and micro fresh vegetable sprouts. Balance: 70 kilocalories.
Green leaf salad. Crispy lettuce leaves seasoned with seaweed and plankton milk cream to mango sauce. To freshen, aromatic herbs. A salad abundant in iodized flavors, sweet notes, fruity and spices Balance: 75 kilocalories
Pumpkin Portions of smoked pumpkin with aromatic herbs on a pumpkin cream. such as dressings, turmeric, lemon grass, hot curry and hummus with toasted sesame. On the top of the plate, crispy toasted seeds, fresh herbs, and a mixture of spices, as well as dried flowers. Balance: 63 kilocalories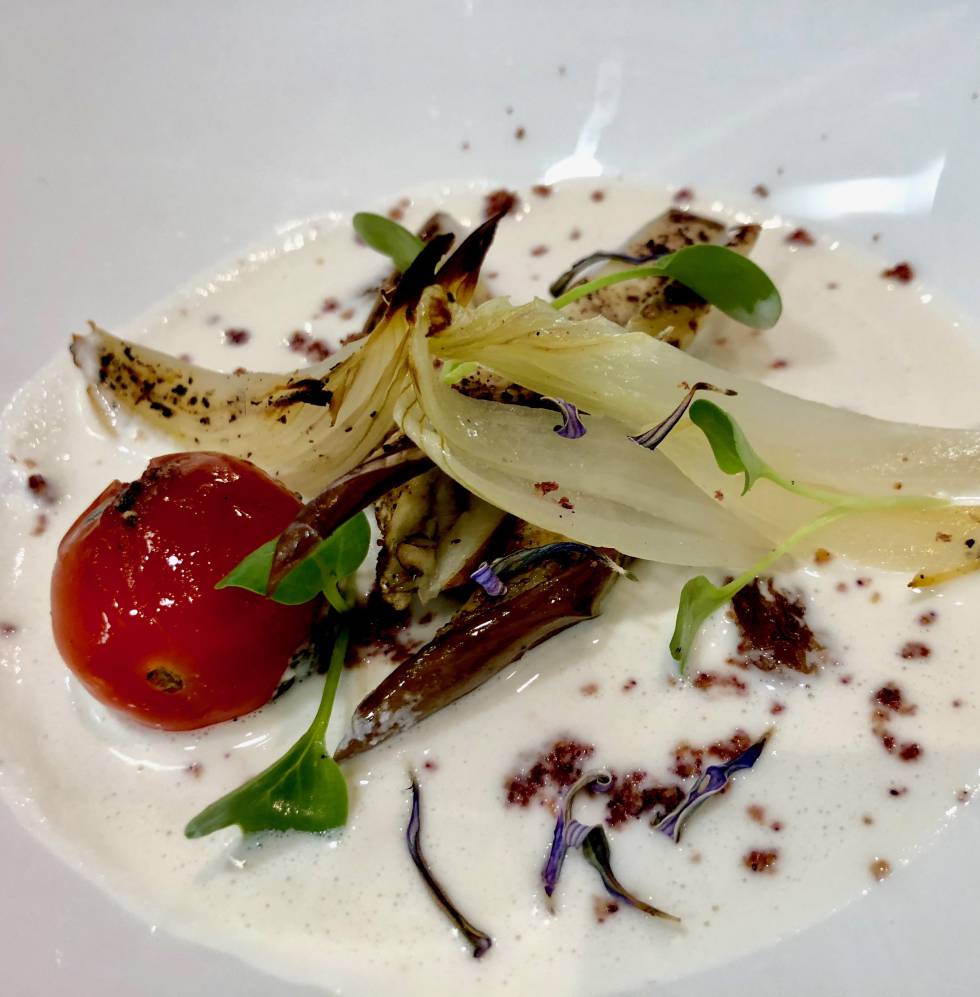 AJOBLANCO/CAPEL
Fennel braised Mini braised fennel bulb, based on a concentrated vegetable juice, dehydrated sweet beet, and celery root cream. Balance: 44 kilocalories
figs, plum and caramel dessert Fresh figs, with a milk fudge ice cream and plum sauce. Dairy-free ice cream, soy only. Balance: 78 kilocalories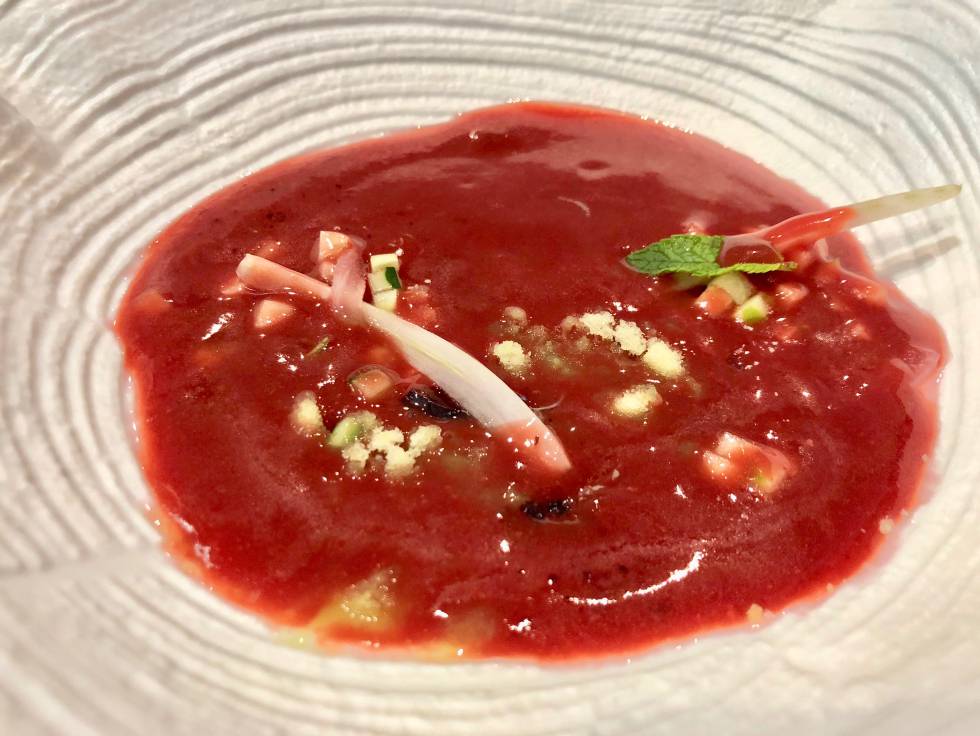 GAZPACHO/CAPEL
To drink water, no wine. No bread of any kind.
That vegetarian menu, vegan or whatever we want to call it, surprised me from the beginning. In each mouthful, complex sensations, vegetal notes superimposed on acid, sour, bitter, bittersweet, spices, smoked, pungent or iodized flavors. And, in all cases, with the counterpoint of changing textures, between soft, fluid or crunchy.
how manage to prepare dishes with such nuances? It's not easy just with vegetables. Creating a tasty dish from a pumpkin respecting its nutritional properties is complicated. We try to add depth to the recipes without the fat contest. We dehydrate, ferment, smoke and make canned vegetables to get long sensations and enhance the umami of each dish. We produce our own vegetable salts, and we influence the retro nasal way to enhance the aromas without adding calories.
who designs them? As head of R & D figure Lourdes Villalba, but we are a multidisciplinary team composed of physicians, nutritionists and cooks in harmony with the philosophy of the clinic. PLatos subject to nutritional and caloric controls, which do not forget the intolerances.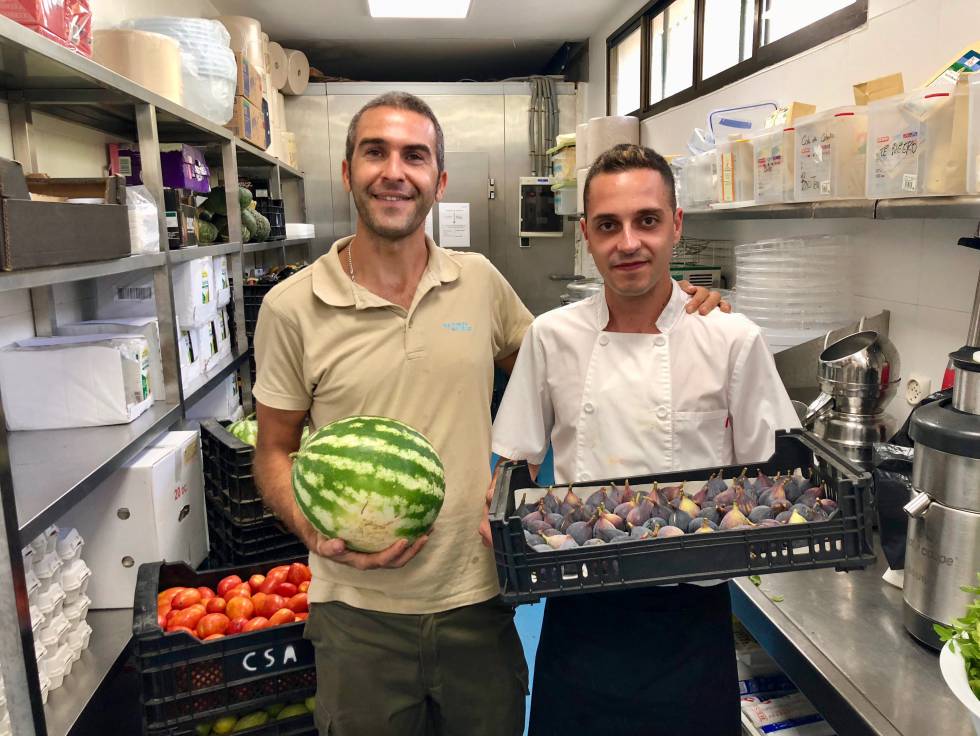 JAVI, vegetable and fruit supplier in the kitchen of the BUCHINGER/CAPEL
What route do patients follow before enjoying these dishes? The process is long. Here they arrive willing to fast between 12 and 14 days. First Fruits. The next day laxative salts, and then broths, juices, and Gazpachos. Like that for 12 days. Before they leave they break the fast with an apple. In the retraining days that continue to enjoy the dishes you are testing. A sensorially interesting phase in which they appreciate more than ever the food.
where do your vegetables come from? In 80% of our own orchards, cultivated in ecological. We relate to artisans of proximity who cultivate custom. Each farmer knows what to plant and when he has to collect it to meet our needs, a farm supported by the clinic. At the time we contacted a craftsman who practiced permaculture and he himself has been selecting other producers.
are your patients interested in cultivation practices? Bad it would be that we got not interest them. A high-cuisine restaurant has a maximum of three and a half hours to attract the attention of its clients. Our patients spend an average of twelve days here. They do with us the first and last meal of their therapy. We take them to the orchards, we explain to them the origin of the seeds and they become sensitized. When they finally taste our dishes they appreciate them more than before.
A little over an hour had elapsed when we got up from the table. For my part with the feeling of having enjoyed as few times vegetable ingredients in unpublished records. All lights high vegetable cooking without the pretense of being, very tasty dishes, low in calories and balanced in nutrients. From my point of view one of the most interesting cooking exercises of 2018.
When we said goodbye, Víctor Wilhelmi commented to me smiling: "do not forget that the cooks have before them a huge responsibility to reorient the agriculture of the future and contribute to the sustainability of the planet."
Follow me on Twitter: @JCCapel and Instagram: JCCapel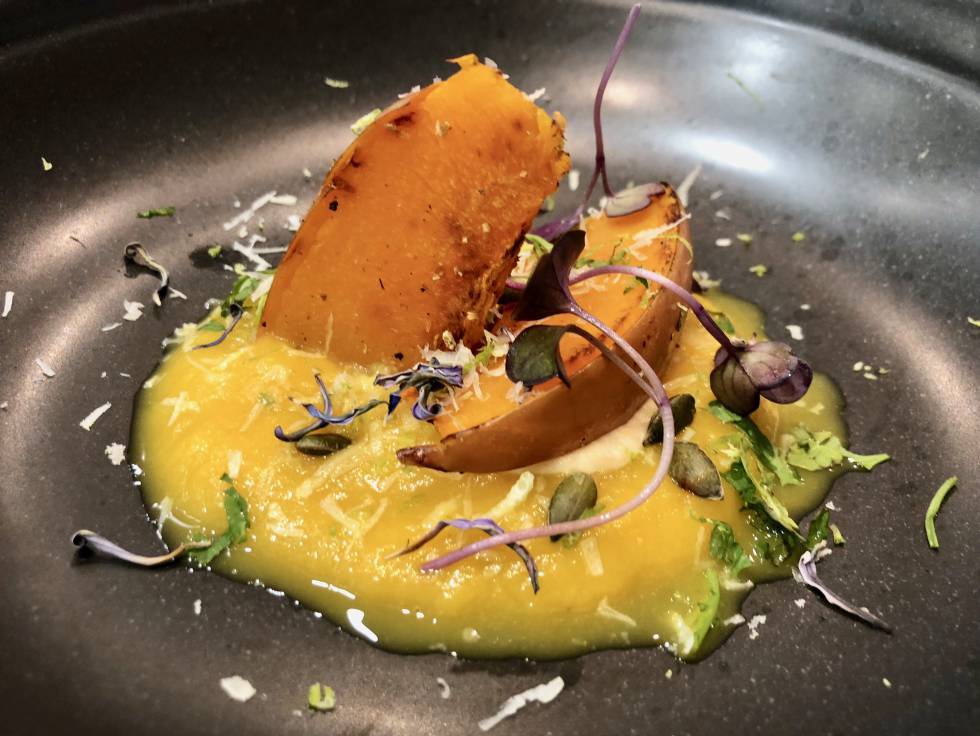 Spices and smoked pumpkin/CAPEL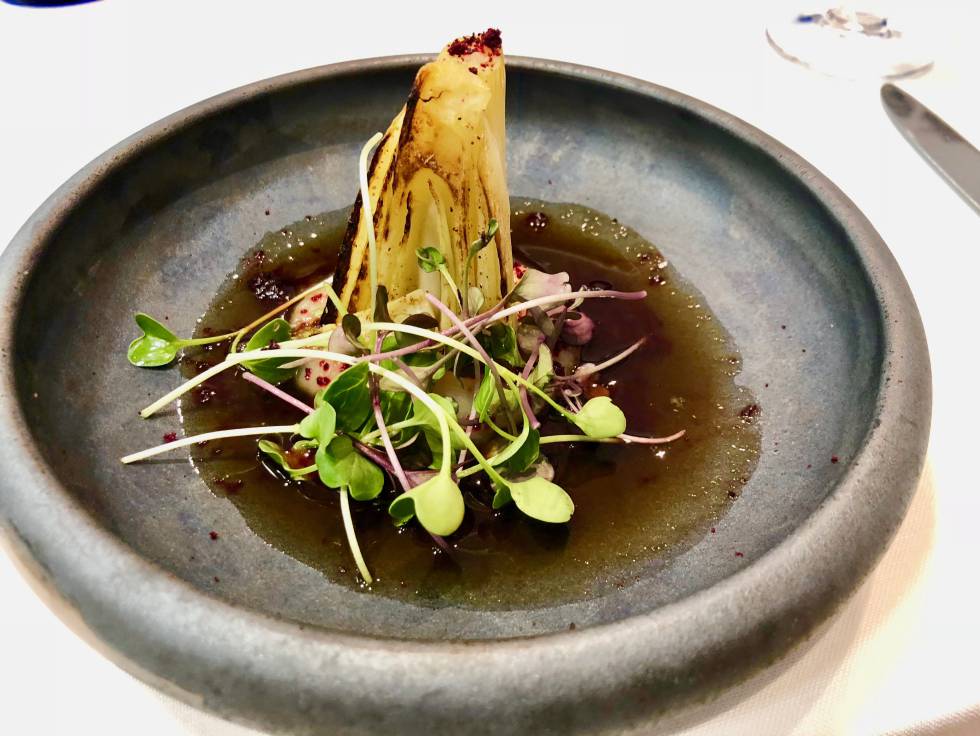 Fennel/CAPEL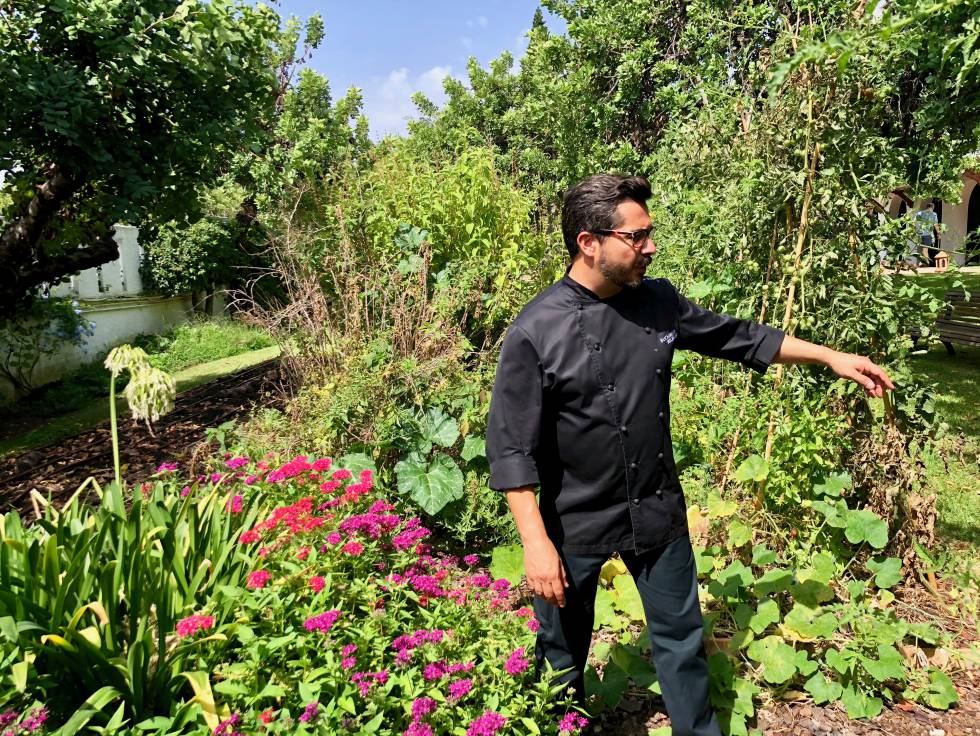 FERNANDO SÁNCHEZ in one of the orchards of the BUCHINGER/CAPEL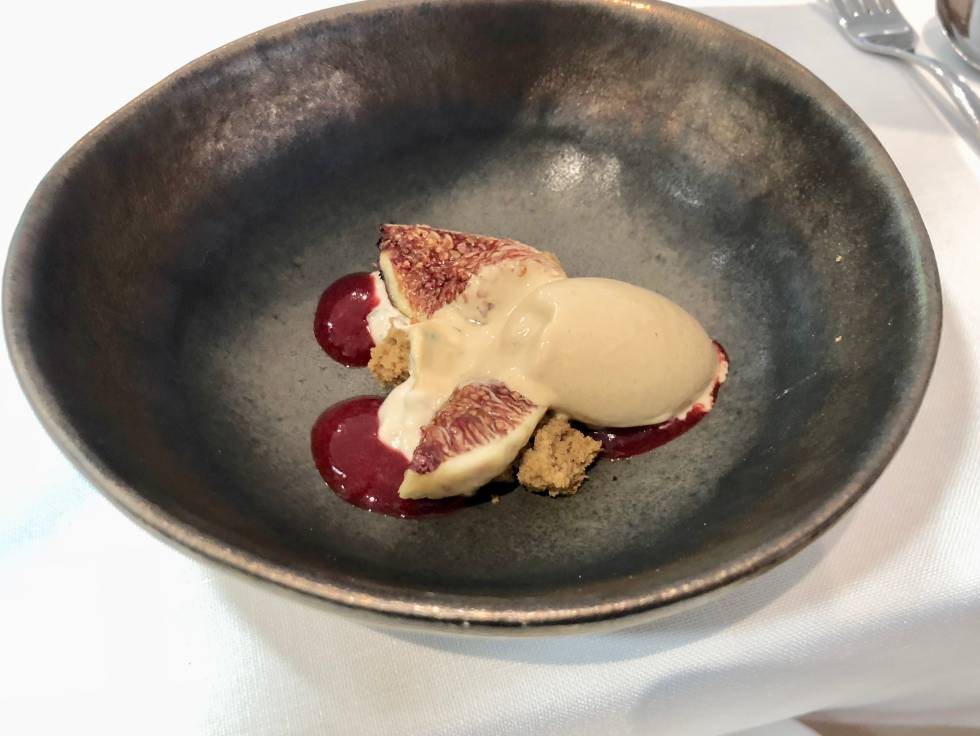 Fresh figs dessert and caramel ice cream/CAPEL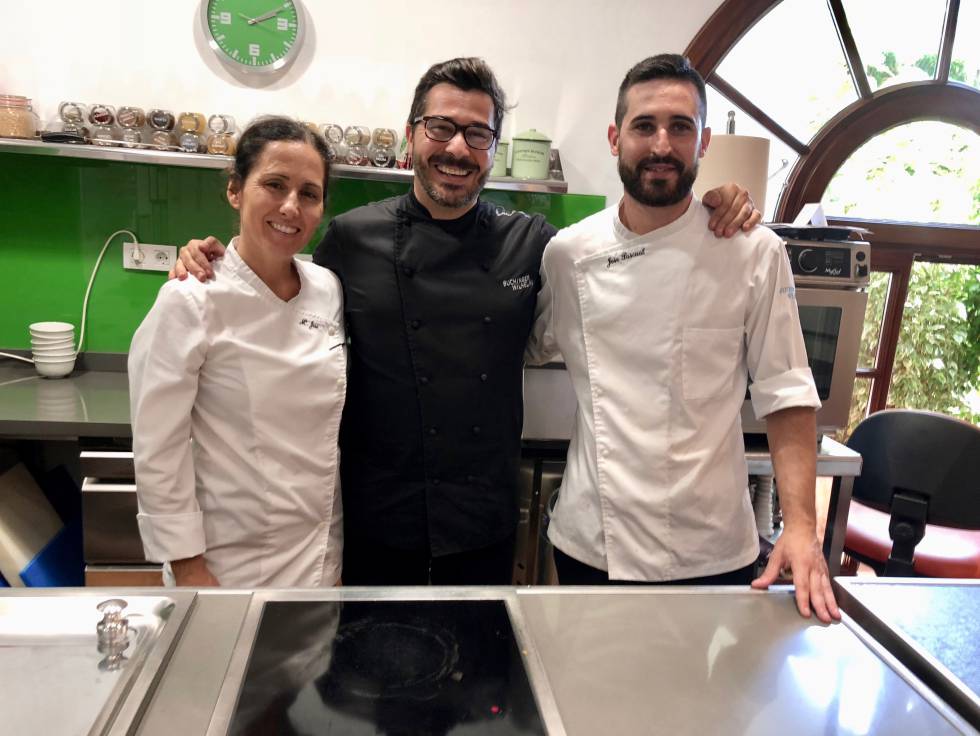 MARIA José AZCÁRATE, FERNANDO SÁNCHEZ and José PASCUAL in the kitchen of R + D/CAPEL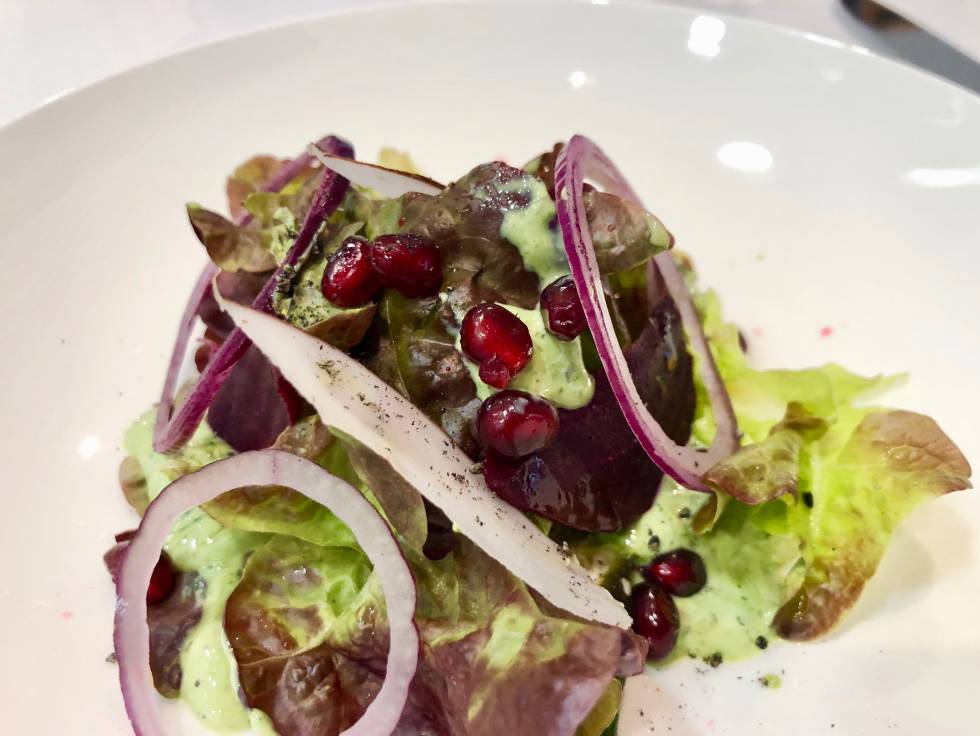 Salad/CAPEL